Flawless
WEBP to PNG

Conversion Tool
Upload WEBP, Download PNG.
Free to use. No signup required!
How to Convert WEBP Files to PNG?
Simply drag and drop your WEBP file to start.
The tool swiftly turns your WEBP into a PNG.
Click 'Download' to get your PNG file instantly.
What makes WEBP to PNG Converter special?
Here are some of the ways in which WEBP to PNG Converter is the best tool for your needs:
Robust Conversion Mechanism
Harness the prowess of our state-of-the-art tool, adept at seamlessly transitioning your WEBP files to PNG format. With a keen focus on every detail, it ensures no loss of quality, color fidelity, or essential elements, bringing forth PNGs that mirror the original in every conceivable way.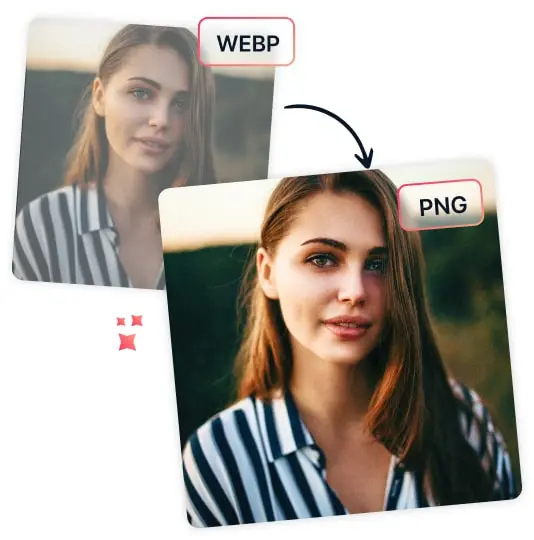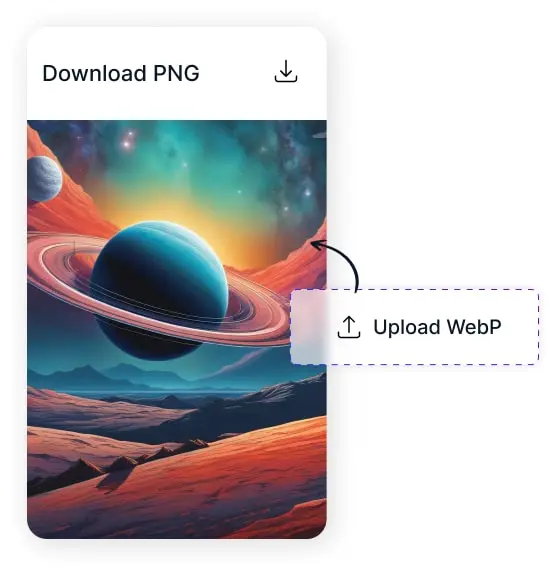 Intuitive User Interface
Experience ease like never before with our user-friendly platform. Upload your WEBP images effortlessly, and trust in our tool to handle the intricate conversion mechanics. The result? A flawless PNG output, ready for use, capturing the essence and details of the original perfectly.
Maintain Image Integrity
Dedicated to retaining the core essence of your visuals, our conversion method ensures that the original WEBP image's integrity remains uncompromised in the PNG avatar. From the finest contrasts to the most delicate gradients, witness an immaculate conversion that mirrors your original.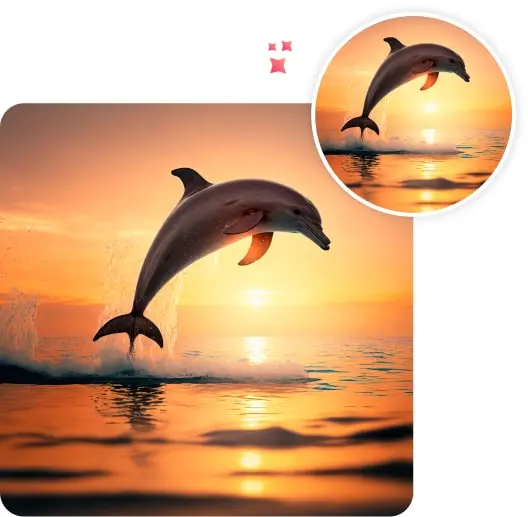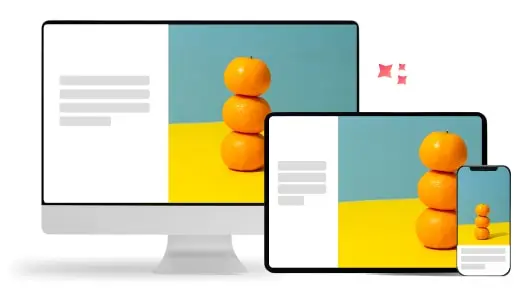 Universal Image Compatibility
Elevate your image versatility with PNG, recognized and supported across numerous platforms. Whether for web projects, intricate designs, or just casual sharing, the inherent flexibility and compatibility of the PNG format magnify the breadth of your visual storytelling endeavors.
Frequently Asked Questions
Can't find the answer here? Please reach out to us at help@magicstudio.com.
Will the conversion compromise my image quality?
Can I convert multiple WEBP files at once?
Is this tool free to use? Do I need to sign up?
How does Magic Studio ensure my data's privacy?
What if I need help or more features?
Can I use the converted images for professional work?
Can I use the tool on mobile devices?
Are there any file size limits?
Do I need to install any software?
What should I do if I encounter a problem?
Download the Magic Studio Apps
Edit pictures magically in seconds. Anytime, Anywhere.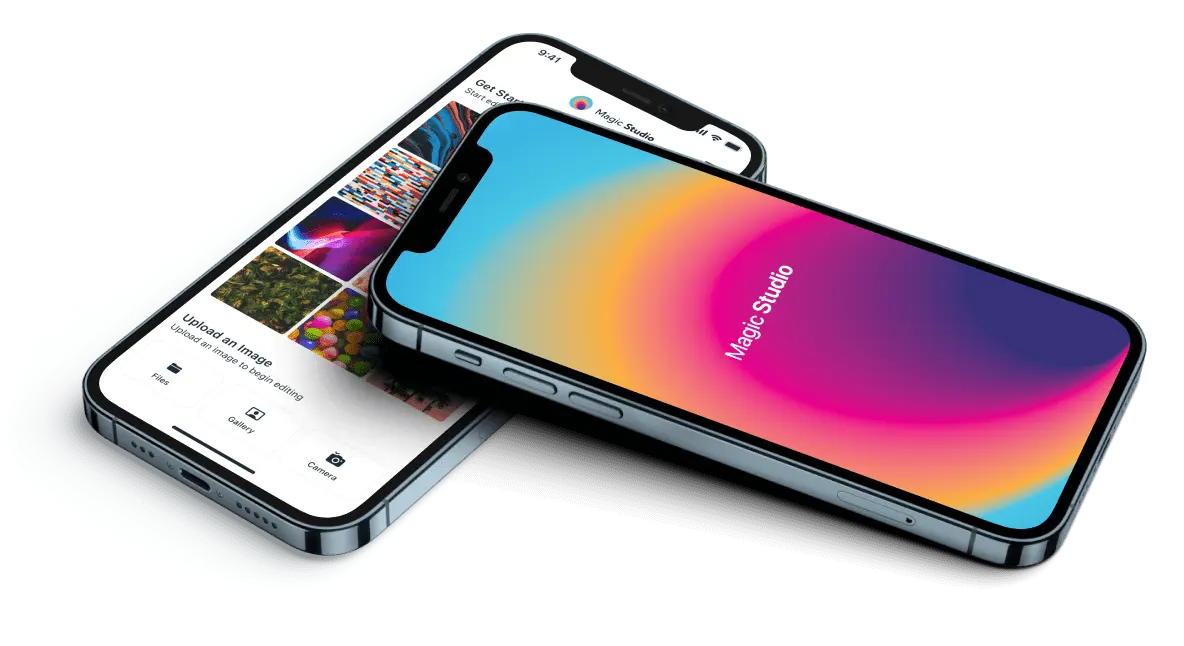 Scan this QR to download the app now
Or use the buttons below


Learn all about AI image editing at Magic Studio Academy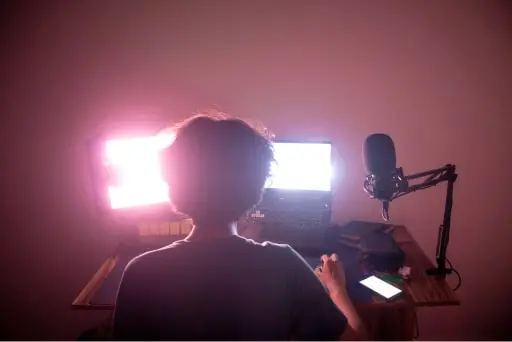 How to Remove Background Easily with Background Eraser
Learn how to effortlessly remove backgrounds from photos using Background Eraser, simplifying your editing process and creating stunning, isolated subjects.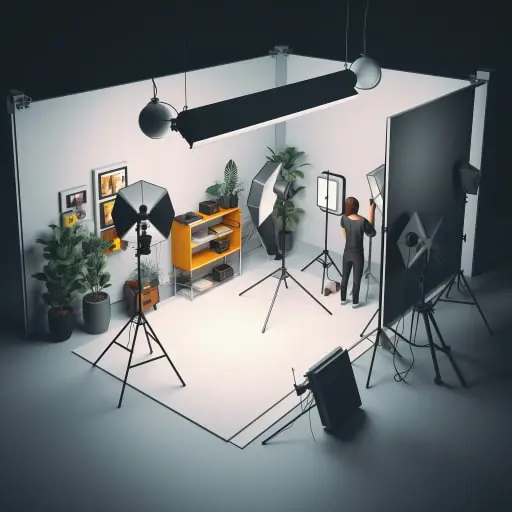 Ultimate Guide to Product Photography
Master the art of product photography with our comprehensive guide, covering everything from equipment and lighting to composition and editing techniques, ensuring your products shine in every shot.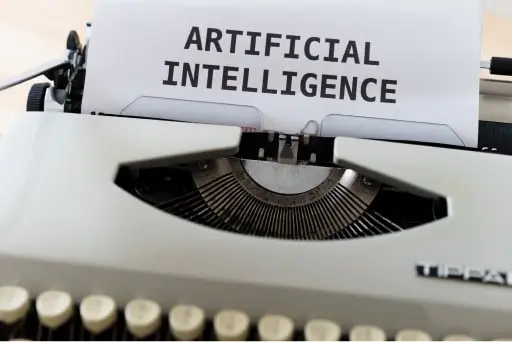 What AI can and cannot do today, and why you should pay attention
This is your guide to understand what AI can do amazingly well today; so you can make the most of it. Look beyond the hype, and understand the limits.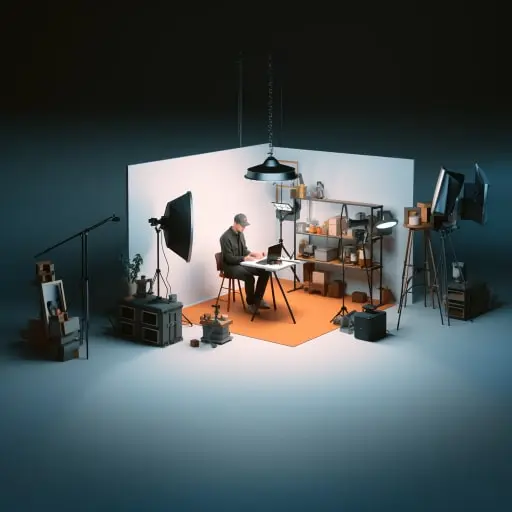 DIY Product Photography: A Step-by-Step Guide
Discover the step-by-step process of creating professional-looking product photos on a budget, empowering you to showcase your products effectively without the need for expensive equipment or a professional photographer.
Other amazing tools at Magic Studio
Magic Eraser
Remove objects, people, text from photos
Insta Headshots
AI Headshot Generator
Background Remover
Remove backgrounds, add coloured backgrounds
AI Image Generator
Create pictures from text, with AI
Image Upscaler
Increase size up to 4K without loosing quality
Photo Booth
Trendy profile pictures with AI
Background Blur
Professional looking photos with blur effect
AI Art Generator
Create Art and Graphics with AI
HEIC to JPG Converter
Convert HEIC (iPhone) photos to JPG
WEBP to PNG Converter
Convert WEBP Files to PNG
WEBP to PNG in Detail
Imagine effortlessly converting your WebP images to PNG format and unlocking a world of compatibility and usage options. With the WebP to PNG Converter, you can instantly transform your images, ensuring they're ready for presentations, photo albums, or any digital platform that best serves your needs. The beauty of this process lies in the preservation of every pixel's detail and clarity, guaranteeing that your memories and visuals remain as sharp and vibrant as the original.
Navigating the digital realm can sometimes feel daunting. However, this converter ensures a user experience that is both intuitive and swift. Whether you're looking to share a picture, integrate it into a project, or simply store it in a universally accepted format, transitioning from WebP to PNG has never been this straightforward.
Your needs come first, and the end result is an image that retains its original charm, now in a widely-accepted PNG format. So the next time you find yourself with a WebP file, remember that a smooth, high-quality conversion to PNG is just a few clicks away. Make your images adaptable and accessible, no matter where you want to use them.